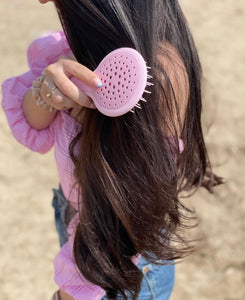 Taking care of weak hair
Taking care of weak hair can be a challenge, but with the right approach, you can improve its health and prevent further damage. Here are some tips to help you keep your weak hair healthy:
Avoid harsh treatments: Chemical treatments such as dyeing, bleaching, and perming can weaken your hair and make it more prone to breakage. If you do use these treatments, make sure to use a deep conditioning treatment afterwards to help repair your hair.
Use a gentle shampoo: Choose a gentle shampoo that is free of harsh chemicals and sulphates. These ingredients can strip your hair of its natural oils, leaving it dry and brittle.
Brush your hair gently: Brushing your hair too harshly can cause breakage and make your hair appear weaker. Instead, use a wide-toothed comb or silicone hair brush to detangle your hair gently, starting from the ends and working your way up to the roots.
Trim your hair regularly: Regular trims can help prevent split ends, which can weaken your hair and make it more prone to breakage.
Protect your hair from heat: Heat from styling tools like blow dryers, flat irons, and curling wands can damage your hair, so it's important to protect it before using these tools. Use a heat-protectant spray and keep the temperature on low to minimise damage.
Avoid tight hairstyles: Tight hairstyles like braids, cornrows, and buns can pull on your hair, causing it to become weaker. If you must wear tight hairstyles, make sure to loosen your hair regularly and give it time to rest.
Eat a balanced diet: Your hair needs proper nutrition to be healthy. Make sure to eat a balanced diet that includes plenty of vitamins, minerals, and antioxidants to help strengthen your hair from the inside out.
By following these tips, you can help protect your weak hair from further damage and keep it healthy. It may take time, but with patience and consistency, you can achieve strong and beautiful hair.
For protecting your hair from the wrong hair brush, we recommend versatile Superbrush with silicon bristles, that is suitable for all hair types and can be used also under shower.
https://superbrushme.com/collections/superbrush
---