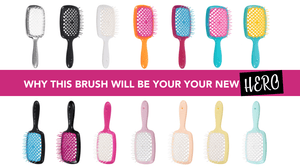 Forget Tangled Hair. This Brush Will Be Your New Hero!
If you are reading this post, there is a big chance you are in a perpetual battle with knots and tangled hair during your brushing sessions.
Well, if that is the case, bad times are now gone thanks to the wonderful Superbrush, which will make brushing your hair like touching a set of precious silk fabrics.
Made by Janeke 1830, an Italian manufacturer specialized in luxury hair accessories and with over 180 years of experience, the Superbrush is all about premium quality materials and care for your hair.

Its silicon-made bristles are made for all kind of hair, wet or dry, straight or curly, and
facilitate untangling without any tugging

. In this way Superbrush protects you from damaging your hair day over day over day. 
Superbrush 
PATENTED

 pneumatic beehive structure is the magic touch for speed blowdrying, helping

 the dissipation of heat

and giving your hair more volume

 

and

 texture.  
That's why every woman is in love with this brush!
And if you don't believe us, let us share a few reviews the Superbrush got around the world:
1) I've had a Janeke hair brush for 25 years which is still in good condition so it's a no brainer that I want one for my daughter. I'm very pleased that the quality is a whole lot better than even my old amazing one. This glides thru hair easily and detangles bad knots with ease. My daughter has thick long hair and can get tangled up badly. This brush works like magic on those tangles and it feels like a comforting massage on the scalp! Love it! - Kelly
2) Amazing for brushing your hair. Never rips it even if your hair is very tangled! VERY GENTLE! Good for drying too, makes my curly hair more straight and does not burn skin or hair when you put the flow of hot air through it. Light and beautiful. I've been using Superbrushe for around 10 years now! Amazing!
PS. White color is not getting dirty with time. I've been using it every day (at home and at work) since November and it's still perfectly white. - Helena
3) I have many different detangling brushes and combs and this one is by far the best and most gentle. I have long thick wavy hair that tangles easily, and this brush easily detanglers without ripping too much hair out. It is also vented so that you can blow dry with it. Highly recommend! - Monika
So here are 6 reasons why this brush is the best hairbrush in the GCC:
Superbrush

is made in Italy with only premium materials (no dubious made in China plastics)

Excellent for hair masks, brushing wet hair, and safely detangling all hair lengths and types without snagging and tugging.


Accelerates the drying of the hair thanks to its patented beehive structure, preventing burnt ends and breakage.


Resistant to high temperatures

 

and chemical agents 

Massage your scalp to

 

stimulate circulation


Suitable for professional and general use, on adults and kids too
So hurry up!! The Superbrush is the best hairbrush now available in the GCC (UAE, KSA, Barhain) in a variety of colors, exclusively on www.superbrushme.com!!
---
1 comment